Πρόκειται για το νέο High Definition player της Toshiba, το οποίο έχει επίσης 1 Terrabyte! σκληρό δίσκο για εγγραφή έως και 130 ώρες HD!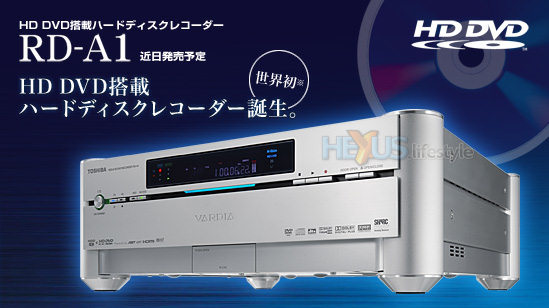 As you can see, it's no marvel of Japanese miniaturisation. Dimensions are 457(w) x 159 (h) x 408(d) mm and weight a whopping 15.2kg. But, it's reckoned to be able to record and store up to 130 hours of HD broadcasts on its giant hard disk and, courtesy of its HD DVD recorder, record up to 230 minutes of HD content on a 30GB dual-layer optical disc. Recording time on a single-layer 15GB disc is said to be 115 minutes.
The RD-A1 can record to conventional DVD, too - including DVD-RAM, DVD-R DL (Dual Layer) and DVD-RW - but, strangely, not any DVD+ media.
As you'd expect, it can output at a range of HD resolutions via HDMI, up to the highest 1080p standard and can up-convert HD and SD content to 1080p as well. Like an expensive hi-fi separate, the RD-A1's chassis is said to be designed to isolate the player from vibration to "optimise the video and audio performance of its high-grade components".
Among the the other features that make the RD-A1 so hot are:
* Integrated digital tuners covering the "full range" of HD off-air sources - terrestrial, broadcast satellite (BS) and communications satellite 110° (CS) broadcasts - along with another tuner for analogue broadcasts
* Ability to record two broadcasts at once - one digital broadcast, one analogue
* Down-converting HD TV program for recording to DVD-RAM/-RW/-R discs at standard definition
* Support for next-generation surround-sound formats - Dolby Digital Plus, Dolby TrueHD, DTS-HD, L-PCM 5.1
* Use of a "high-speed, high-performance" 297MHz/14bit video encoder, that's said to make it possible to deliver HD via analogue component outputs
* Internet connectivity via Net de Navi that allows recordings to be programmed remotely - via e-mail or an on-line progamme-guide
* Home networking for interactivity between the RD-A1 and Toshiba's REGZA Z1000 HD LCD TV sets and the Toshiba Qosmio G30 AV notebook PC.
Specs
* Hard disk  - 1TB built in
* Optical recording media - HD DVD-R (HDVR mode), HD DVD-R DL (HDVR mode), DVD-R (Video mode; VR mode), for General/1x-16x (recording speed 8x), DVD-R DL (Video mode; VR mode), for General/4x (recording 4x), DVD-RAM VR mode 2x-5x (recording 2x), DVD-RW (Video mode; VR mode), 1x-6x (recording 4x), CD-R, CD-RW (CD-DA)
* Video recording format  - MPEG 2 
* Audio recording format - Dolby Digital (2ch), L-PCM (2ch), AAC (5.1ch),
* Audio output - Dolby Digital (5.1ch)Dolby Digital Plus (5.1ch), Dolby TrueHD (2ch), DTS-HD (5.1ch)L-PCM (5.1ch)*Output format depends on content.
* Video DAC - 14bit, 297MHz
* Audio DAC  - 192kHz, 24bit
* Broadcast channels -  Digital terrestrial (000 - 999ch), CATV path through, BS digital (000 - 999ch), 100 degree CS digital broadcast (000 - 999ch), analogue terrestrial VHF (1 - 12ch), UHF (13 - 62ch), CATV (C13 - C63ch),
* Video/audio inputs - S-video x3 (rear x2, front x1), composite video x3 (rear x2, front x1), 2ch analogue audio x3 (rear x2, front x1), D1 video x1, DV (FireWire) input x 1 (front)
* Video/audio outputs - D1/D2/D3/D4 video x1, component video (Y, CB, CR) x 1, S-video x3, composite video x3, 5.1ch surround-sound analogue audio x1, 2ch analogue audio x3, Co-axial digital audio x1, optical digital audio x1, HDMI x1, FireWire four-pin (i.LINK) for D-VHS dubbing x2
* Antenna terminals - digital terrestrial input/output, BS/100degree CS digital input/output, VHF/UHF input/output
* Other terminals  - LAN xl, Sky Perfect continuous xl, phone circuit x1, extension terminal x3 (front, 5V 500mA)
* Power consumption  - 133W (BS antenna supply:144W), Stand by mode 6.5W (power-save:4.0W),
* Dimensions - 457(w) x 159 (h) x 408(d) mm
* Weight  - 15.2 kg 
* Accessories  - remote control, battery for remote control (AAA cell battery x2), power cable, coaxial cable, video/audio connecting cable, user manual, B-CAS card, modular splitter, phone cable.
(
Πηγή
:
http://lifestyle.hexus.net/content/item.php?item=5998
)